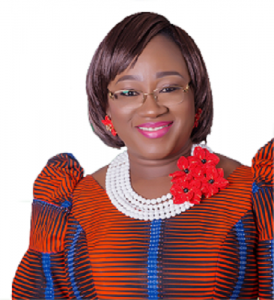 "A quintessential top administrator and executive officer who has worked on strategic and grassroots initiatives locally and internationally, Mrs. Ifeoma Nwobodo is an expert in the managerial sphere.
She is a senior management professional with extensive and varied experience spanning decades across government, NGO, private and public service spheres including working at strategic and managerial levels in various sectors in the business world.
She has specialist expertise in financial services, manufacturing, export, hospitality and tourism, to mention a few. "
Early Life and Education
She started her primary education at the University Primary School, Nsukka, Enugu State in 1971, and finished in 1977 at the Zik Avenue Primary School (later renamed T.T.C Primary School). Her secondary education commenced at the Federal Government Girls College, Gboko, Benue State, in 1977, and concluded with a West African School Certificate obtained at the Queen of the Rosary College, Nsukka in 1983.
Nwobodo gained admission to the University of Nigeria to study Banking and Finance at its Enugu campus. She graduated with a Bachelor of Science degree in 1987. She is now a Fellow of the Institute of Chartered Accountants of Nigeria (ICAN), and an Associate Member of the Chartered Institute of Taxation (CIT).
Career
She has a keen eye for details and is accomplished in proficiently managing multiple activities and projects simultaneously.​ Over time, Ifeoma developed strong interpersonal skills and team spirit that ensures smooth interactions with key principals and has been a key success factor in her career paths. In addition, she developed the ability to coordinate and work collaboratively with other stakeholders, colleagues, development partners and contractual service providers.​
Ifeoma accepted the position of Chief Accountant at Melagro Exports Limited in the agro and exports business industry. She was responsible for the Finance & Accounting team, and focused on developing innovative processes and workflows to stimulate growth of the company.
In 1998, Nwobodo become Chief Accounting & Finance Officer at Manaksia Industries Nigeria Limited, a Lagos-based manufacturing conglomerate with an Export division. While at Manaksia, she was involved in the development of efficient financial and accounting operation processes. Within those two years, she introduced computerized accounting systems, and established and monitored the company's internal control system. In this role, she also provided strategic directions for the company in the areas of human resources and human capital management, tax planning and administration, and direct costing to guide management in product price determination.
Ifeoma then took an appointment with a multinational hospitality & tourism company, the Protea Group, to become the Chief Finance Officer (CFO) of the Protea Hotel Nike Lake Resort in 2001.
Chief Mrs. Nwobodo became the Chief of Staff to the Governor of Enugu State in 2007. An advocate of women's empowerment, Nwobodo used her office to champion the cause of women, both via education and economic ventures. In this role, she engaged many socio-cultural and professional groups at conferences, meetings and workshops.
Her hobbies include but are not limited to reading philosophical books, biographies and autobiographies, travelling and experiencing new cultures, going to operas, watching movies and listening to music.
Awards & Honours
Outstanding Service Award for Outstanding Performance towards Women Development – from Association of Professional Women Engineers of Nigeria (APWEN).
Most Distinguished Public Administrator of the Year 2010 – from Nigeria Union of Journalists, Enugu State Chapter.
Merit Award for Outstanding Commitment and Meritorious Service to the Course of Women in Nigeria – from National Council of Women Society of Nigeria.
2011 Merit Award as Epitome of Gender Excellence in Administration – from National Association of Women Journalists Enugu State Chapter.
Merit Award for Excellence – from 82 Division of Nigerian Army.
Award for Excellence for Your Outstanding Achievement – From the Redeemed Christian Church of God, Graceland Youth Fellowship.
Award of Excellence for Your Exceptional Service Delivery in Sustenance of Good Governance and Human Empowerment to the People of Enugu State – From Student Union Government, Enugu State University.
Outstanding Service Awards – The Gateway to Good Governance 2013 – From Association of Heads of Federal Establishments, Enugu State.