Dr. Ukpabi Asika
Asika was educated at University College, now the University of Ibadan. He also studied at the University of California in the USA from 1961 to 1965 and then became a lecturer in Political Science at the University of Ibadan between 1965 and 1967.
Asika was appointed administrator of East-Central State in October 1967 at the start of the Biafran civil war. After the war ended in 1970 he was responsible for administering a large part of the former Biafran territories. He was also a member of the Technical Committee on the Review of the National Census from 1973 to 1975. He later was Team Leader of the Presidential Delegation to Niger, Chad and Cameroon which negotiated reopening Nigeria borders in 1985. He died on 14 September 2004.
Chief (Dr.) Gabriel Igbinedion
Chief (Dr.) Gabriel Igbinedion (b. September 11, 1934), is a Nigerian billionaire and philanthropist. Sir Gabriel Osawuru Igbinedion is the CEO of Independent Radio and Independent Television. He is a Nigerian businessman and developer who owns a group of companies under the brand name Okada which is also the name of a location close to the city of Benin where he was born and known for building various institutions.
In 1964, he moved to Benin to become the regional sales manager of Leventis, Midwest after the creation of the Midwest region in 1963. Igbinedion left Leventis in 1967 and established a motor sales and service firm, Mid-Motors which was partially funded with bank loans. In the 1970s, the firm was involved in assembling Hino Trucks in the country and it is considered the first motor assembly plant in Nigeria. The firm obtained distributorships with Hino Motors, Yamaha, Nedion Fiat and Marcopolo buses. He later ventured into bottling with Okada dry with the help of Canada dry and Okada airlines. He also owns expansive real estate in Benin where he bought the estates of deceased Bini chiefs. He also owns the ITV television station in Benin and formerly owned an oil license under Moncrief Oil.
His Excellency Chief Achike Udenwa
His Excellency, Chief Dr. Achike Udenwa obtained a Diploma in Accountancy at the College of Technology Enugu. He Joined Peat. Marwick. Cassleton Elliott &Co to train for professional Accountancy and qualified in 1976. Achike became a Fellow of Chartered Institute in 1982. He worked briefly in the Banking Sector soon after qualifying as an accountant. Audit Manager 1981, He Joined Monier Construction Company Nig. Ltd (MCC) in 1993 as the Financial Controller and later rose to the rank of General Manager Finance. Achike Udenwa served as the secretary general of the Students' Union. College of Technology Enugu. He won election as the Executive Governor of Imo State 1999- 2003 and was re-elected 2003- 2007. He is married and blessed with six children.
Chief C.C.Onoh
Onoh, in the late 1940s, worked as a contractor, then produce inspector and then livestock trader. Using the money from these ventures, he funded his education in the United Kingdom, earning a law degree from the University of Wales at Aberystwyth in 1957.
In 1958, Onoh was elected member, House of Representatives for Enugu Constituency. He later resigned to take up appointment as the first indigenous chairman of the Board of the Nigerian Coal Corporation. From 1961 to 1966 he was on the board of the Nigeria Railway Corporation. During the civil war, Onoh was appointed administrator of Enugu Capital Territory. In 1970 he returned to private life as a lumber merchant. He was then appointed chairman of the Nigeria Mining Corporation, and in 1982, chairman of the Associated Ore Mines.
Onoh was elected governor of Anambra State in October 1983.
His daughter, Bianca Odumegwu-Ojukwu, became a beauty queen and then a businesswoman. Christian Onoh died on 5 May 2009 at the age of 82.
Admiral Augustus Aikhomu
Aikhomu attended Yaba Technical Institute (now Yaba College of Technology). He attended the Higher College, Yaba, after which he proceeded to the Royal Britannia Naval College, Dartmouth in England. He further attended the Royal Naval Engineering College, Manadon, England; Long Gunnery Specialist Course, India, 1969-70; Defense Services Staff Course, Wellington, Inia, 1973 and National Institute for Policy and Strategic Studies in 1982.
He joined the Nigerian Navy on December 1, 1958; commissioned Sub-Lieutenant, Nigerian Navy in 1964; Lieutenant, 1967. The late Admiral was thereafter elevated to the post of Commander in 1974 and later Captain in 1977. He was promoted Commanding Officer in-Shore Patrol Crafts. From 1974 to 1975, he was the Commanding Officer, Nigerian Navy Donna. Commanding Officer, NNS Nigeria (now NNS Obuma), then the Flag Ship, 1975-78; Flag Officer Commanding, Flotilla, 1978-80; Navy Commodore, 1980; Chief of Personnel, Naval Headquarters, 1980-83; Chief of Naval Operations, 1983-84; Rear-Admiral, May 1, 1984; Chief of Naval Staff: 1984-86.
He doubled as Chief of General Staff and Vice President between 1986 and 1993. On October 1987, Aikhomu became a Vice-Admiral, October 1987 and also a member of the Armed Forces Ruling Council in 1986. In 1987, he was made chairman of the National Boundary Commission. Passed Staff College, 1973; Nigerian Alliance Assurance Corporation Limited; Regency Alliance Insurance Plc; he was a member of the National Institute, 1982 and a fellow of the Nigerian Institute of Management, 1988. He was decorated with national honours such as the Grand Commander of the Order of the Niger, GCON, in 1992; Forces Service Staff (fss); Steering Committee, United Nigerian Democratic Party. Naval officer, former chief of general staff and Vice president of the Federal Republic of Nigeria; politician, businessman. He was chairman, Board of Trustees, All Nigerian Peoples Party (ANPP).
Prof. (Mrs.) Dora Akunyili
Akunyili obtained her first degree in Pharmacology in 1978 and got her Ph.D. in 1985 from University of Nigeria, Nsukka. Dora Akunyili was a post graduate fellow of University of London and a fellow of the West African Postgraduate College of Pharmacists. She was also a fellow of the Pharmaceutical Society of Nigeria, member of the New York Academy of Science, International Narcotics Control Board, United States Pharmacopeia Expert Committee, Association of African Medicinal Plant Standards, Global Alliance for Improved Nutrition, Medicines for Malaria Venture and International Council Control.
She served as Director-General of the National Agency for Food and Drugs Administration and Control (NAFDAC) from 2001-2008 where she recorded outstanding successes. She brought in a new culture of excellence and honesty and as a result, the level of fake and counterfeit drugs in circulation dropped by a measurable degree. Akunyili also worked as the Minister of Information and Communication from 2008 to 2010 where she anchored the Rebranding Nigeria Project. Dora Akunyili during her lifetime had the highest number of awards received by any Nigerian living or dead.
Prince Engr. Arthur Eze (OZOIGBONDU)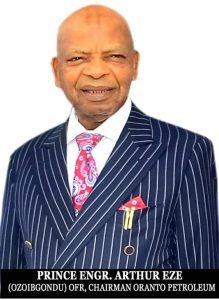 Prince Engr. Arthur Eze (Ozoigbondu) was born to the family of His Royal Highness, Michael Eze, Okofia .I. Eze n'Ukpo in Dunukofia LGA of Anambra State. He attended his secondary school at St. Augustin Nkwere Imo State. He was trained as a chemical and mechanical Engineer at California, USA, Long Beach, His company Atlas Oranto Petroleum International Limited, a wholly Nigeria Oil exploration, drilling and production company gives an unlimited, raw-material, goods and services both locally and International Oil Market. AOPL maintain till date vast interests in upstream oil sector, in Nigeria, Cameroon, Togo, Chad Sierra Leone, Ivory Coast, Gambia, Liberia, Equatorial Guinea, Niger, Ghana, South Sudan.
His technical partners include Roc Oil, Pioneer Natural Energy of the USA, Petrorias of Malaysia, DNO of Norway, Trans Atlantic Petroleum of USA, Canadab Nexen and many others. Ozoigbondu has sustainable investments all over the continent of the world. He is currently rated the second highest employee of labour in Africa. Ozoigbondu is a complete philanthropist such that the prince cares and gives more than any charity home, foundation, or community can give. In fact, a hope for the hopeless. He had sponsored many Christian programmes at home and internationally life, ordinations, knight-hood, youth programmes, theological school, Christian Camps, Crusade, and Pilgrimage to holy land.
The Prince has established and single-handedly built and completed Hospitals, University Projects, Churches, Roads, water and rural electrification both in his town Ukpo, Across Nigeria and beyond. He has made huge donation to many academic institution and universities and many are in his scholarship programme. He has built houses for individuals that cannot afford it. He has a single-minded commitment to eradicate poverty by empowering individuals to create wealth for a better society.
Prince Arthur Eze falls sick whenever he has not enough money to give out for good gesture. Prince Arthur Eze is a deeply religious man fully committed to the work of God and Evangelism. A Christian he is and a devoted Anglican. Ozoigbondu is married to a queen and is blessed with five children. He is undoubtedly a special gift to mankind. His humility, kindness, generosity and the burning desire to make the gospel to get to end of the world and to make our world a better place is simply amazing. He is an outstanding citizen of the world.
Nnamdi J. Okonkwo (MD/CEO., Fidelity Bank)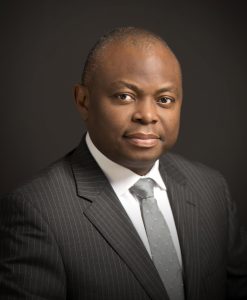 Nnamdi is a graduate of University of Benin, Nigeria from where he obtained a first degree in Agricultural Economics. He holds an MBA in Banking and Finance from Enugu State University of Technology, Nigeria. He is also a graduate of the Advanced Management Programme of INSEAD Business School, Fontainebleau, France.
Nnamdi has attended business, leadership and management training programs locally and overseas, in some of the world's leading institutions including Harvard Business School, Wharton Business School and Stanford Graduate School.
Mr. Okonkwo's banking career started in 1990 at Merchant Bank of Africa, Nigeria. His early career was further nurtured in Guaranty Trust Bank, Nigeria where he rose to become a Manager and was appointed the pioneer Branch Manager of Onitsha Branch before moving on.
He later worked in other financial institutions, notably United Bank for Africa (UBA) Plc where he held various managerial and leadership positions including Regional Bank Head in Lagos, Regional Director, Federal Capital, Nigeria, Project Director, and Head of Corporate Banking and Multinational Corporates Division. The high point of his career in UBA came when he was appointed Managing Director/CEO of UBA Ghana and later elevated to Regional CEO of the bank's West Africa Monetary Zone covering Ghana, Liberia and Sierra Leone.
In 2012, Nnamdi took advantage of an existing opportunity and joined Fidelity Bank Plc., Nigeria as Executive Director in charge of the Bank's businesses in Southern Nigeria, a position he held until January 1, 2014 when he was appointed Managing Director/CEO of Fidelity Bank.
Mr. Frank Aigbogun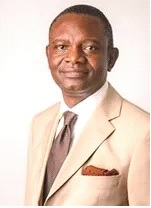 Mr. Frank Aigbogun Publisher and Chief Executive Officer of Business Day Media Limited which he founded in 2001.
Mr. Aigbogun graduated from the Institute of Management & Technology, IMT in 1982 with a Higher National Diploma, topping his class. He began his journalism career at the Guardian newspaper in Lagos where he also served his national service and rising rapidly to become the head of the reportorial unit for the Sunday Guardian.
In 1984, he moved to the Vanguard newspaper as its pioneer news editor and was appointed editor of the title, a position he held for about seven years. Mr. Aigbogun also served as the Lagos correspondent of the Associated Press, AP, the world's largest independent news agency.
Mr. Aigbogun, a highly regarded journalist and entrepreneur, has on two occasions been called upon by the Federal government of Nigeria to make direct contribution to national development. He was appointed in 1996 by the Federal government as a member of Nigeria's 147-member Vision 2010 committee where he served as alternate rapporteur for the sub-committee on competition and commercialization. And in 2013, he was appointed by then President Goodluck Jonathan as a member of the governing council for Nigeria's National Competiveness Council.
Mr. Aigbogun is the current vice President of the Alumni association of the Lagos Business School and he chairs the board of Constitutional Rights Project, CRP a rights advocacy group. A director of the Nigerian Economic Summit Group, NESG and member of the executive council of the newspaper proprietor's association of Nigeria, NPAN, Mr. Aigbogun features regularly in top level business discussions and conferences in Nigeria.
Business Day which he founded today employs over 300 persons, more than a hundred of them journalists. Business Day, Nigeria's first and only daily business and financial newspapers won several local and international awards including business newspaper of the year in Africa given by Diageo, owners of Guinness.
Business Day has grown steadily to become the newspaper of choice for business leaders and investors in Nigeria because of its robust and credible coverage of the economy. Business Day enjoys content partnership with globally acclaimed newspapers like the Financial Times of London and the Economist and it is the first publication in Africa to launch a paid digital subscription service.
Mr. Aigbogun is widely travelled and is married to his IMT classmate, Juliet. They both have three children.
Evangelist Patience Annie Ozokwo (Mama G)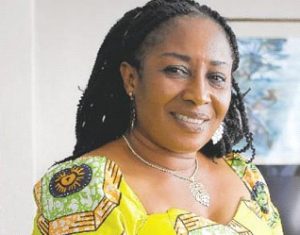 Evangelist patience Annie Ozokwo (MFR) is a renowned, Award-winning actress, musician, fashion designer and gospel singer. She won the best supporting actress Award at the 10th African Movie Academy.
Patience Ozokwo was among the 100 Nigerians honoured by Government to celebrate nations Centenary (amalgamation of the Northern and Southern Protectorates)in 2014. She worked in aradio station as a radio announcer and news caster; a seasoned broadcaster. Before starting as actress, Patience Ozokwo first made it into the radio drama and then the soap opera on the Nigerian Television Authority  (NTA).
She acted her 1st movie in 1998. Mama G has feature in over 300 Nollywood movie. She is an alumnus of Institute of Management and Technology, Enugu; where she studied Fine and Applied Arts.